People LOVE Our Adjustable Picture Perfect Hanger
I ordered your picture hangers and I just wanted to tell you, they are awesome! Great product! I will definitely be purchasing more! Thanks.
Roxanna, NY
The hangers arrived last Friday and the triptych went up smoothly over last weekend. The hangers made it possible for us to fine-tune the horizontal and vertical, and we love the result. I quite literally couldn't have hung the pictures to my standards without your hangers. Thanks hugely.
Kevin, UK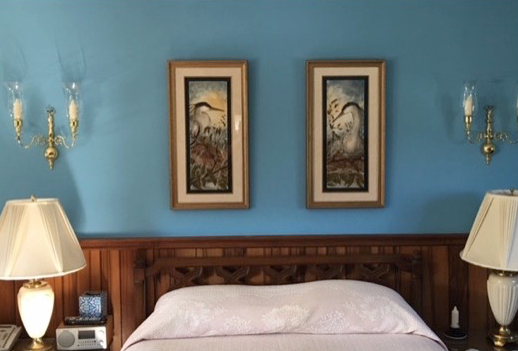 Today, I hung two rectangular pictures side by side in my mother's bedroom.  I had just had the room painted for her and was eager to hang these paintings.  I'm semi-invalided these days and your hangers made the job so much easier for me.  The adjustability, the inclusion of the mollies and screws/nails is fantastic, and knowing the quality of your workforce makes this a product worth supporting. Many thanks
Michael, NY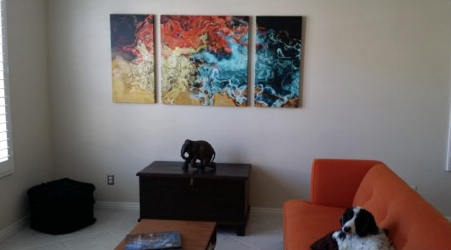 The hangers did in fact make it on Saturday, so got a chance to hang up my picture in time for a Saturday night BBQ at my house. Worked exactly as advertised!! This literally saved me a few hours of pain and suffering trying to get this 3 piece aligned properly. You guys are aweseome!!
Andrew, CA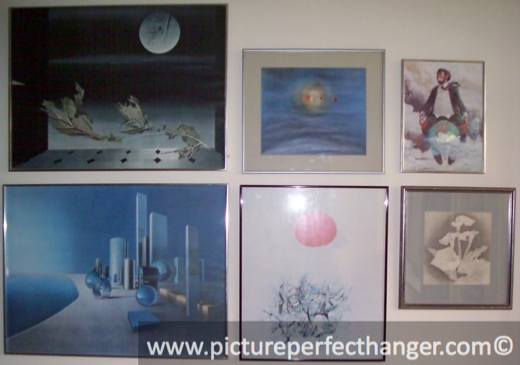 I worked out that the trick was to get the hanger in "about the right place", and then use the adjustment facility to get the fine tuning just right. I was very pleased by the end result. Working on solid masonry walls, I didn't have any false starts requiring extra drilling which was very satisfactory.
Phil, South Australia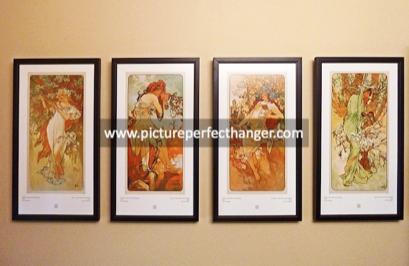 We had just completed a nice powder room renovation and wanted to finish it off by putting up a set of four lithographs on one wall, neatly lined up. I was not able to get even two of them level with one another with the usual picture hooks, and making hole after hole in the wall to make it happen did not seem like a sensible way to get the job done. I found your adjustable picture hangers through a web search, and you can see from the photos how perfectly they worked for us! Nice product, simple but effective -- and priced right.
Les, MA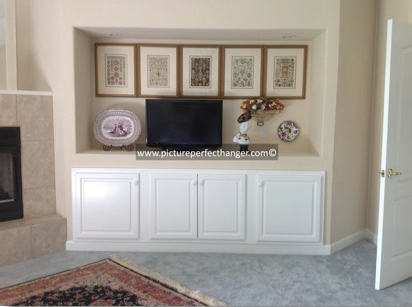 I have hung these same pictures in a row in a previous home, but I did so with spacing between them. I used a laser level to accomplish that task and that still took a lot of time and minor adjustments to have them aligned properly… Thank goodness I found your hangers. They worked like a charm. I did the measurements as I would for a normal fixed hanger and placed the Picture Perfect Hanger at its middle position. It was then an easy task, in just a few minutes, to adjust the hanger to make all the pictures level…..something that would have taken me hours to otherwise. I highly recommend the Picture Perfect Hanger.
Larry, FL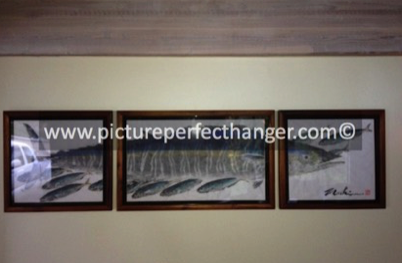 QUICK AN EASY Three pictures, three holes…thx
Mark, HI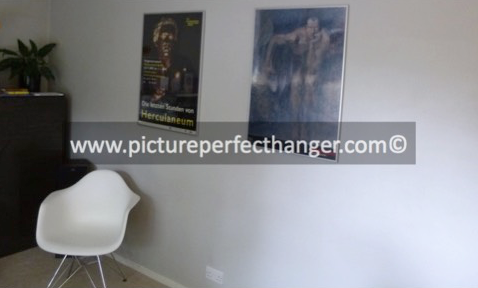 THEY WORKED REALLY WELL. Very easy-and level!!! Shame they are not available more easily this side of the Atlantic.
Jon, London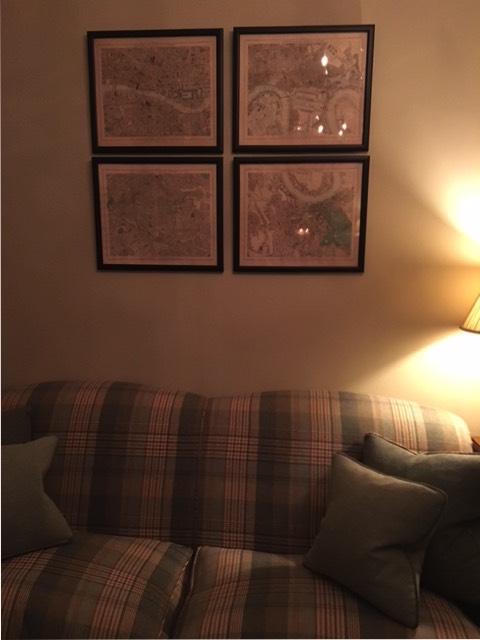 Just wanted to say a belated thank you for your amazing product! Each time I've looked up at my perfectly hanging pictures over the last couple of years, I've meant to write to say how pleased I am with the 4-way hangers. Nothing else could get our grid of 4 pictures to stay hanging perpendicular to one another, but there they've stayed for the last 2 years with no need for any further adjustments. Many thanks, including for your excellent customer service! Honoured to have been one of your first UK customers!
Julie, Great Britian